Welcome back!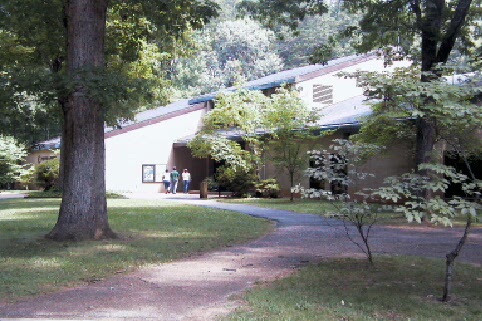 I was not able to go hiking in the Los Angeles area the weekend of May 5, 2012 as I was out of town on business during the week and took a side trip to visit family.  While I was in North Carolina I took a trip to the Guilford Courthouse to "hike" around the park.  It was more a walk than a hike but there are some nice hills and woods to go through.
Guilford Courthouse is the site of one of the Revolutionary War's most fierce battles.  According to the National Park Service's website, "This backwoods county seat of Guilford Courthouse, North Carolina, was the site of a pivotal battle in the Revolutionary War's decisive Southern Campaign. The engagement set the stage for the region's liberation from enemy occupation and impelled British general Lord Charles Cornwallis to take the ill-fated road that led him to final defeat at Yorktown, Virginia, seven months later."
The trails around Guilford Courthouse are mostly paved and surrounded by trees.  We started out at the Visitors Center and wound our way through the paths paralleling the auto/bicycle tour.  We walked about three miles though the park and found ourselves back at the Visitors Center.  There is an interesting exhibit in the Center with artifacts from the war.
I encourage all of you to take a moment to stop by Guilford Courthouse if you are ever in Greensboro, NC.
All images property of the National Park Service.